3483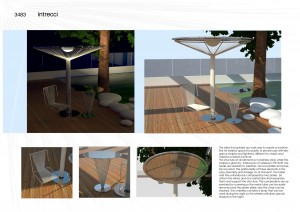 The idea that guided our work was to create a furniture line for exterior space (for public or private use) with elegance shapes and lightness, different to classic and massive outdoors furniture.
The structure of all elements is in stainless steal, while the shapes is given by  interwoven of wireless in PE. Both materials are resistant to weather, are recyclable and possibly recycled.
The particularity of these elements is the easy assembly and storage, so of transport.
The table and the umbrella are composed by two plates  (to attach the wires) and one metal tube that separates them and support the structure. The components are assembled by screwing so the metal tube can be easily removed and the plates piled; also the chair can be stacked. The umbrella contains a lamp that can be used during the night so the wireless will draw special shadow in the night.
Participation Information
DanielaBalboni / Alice Solato
CODE 3483
EDUCATIONAL INSTITUTE:  ISIA Faenza (www.isiafaenza.it)