3407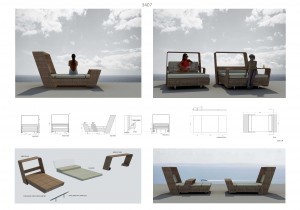 I always want to create a day bed  in which I can work, take a rest or have some relax, eat and drink, talk with friends.
I create a movable table on it beacuse of the need; the table has to be move on to the bed for eat or work, and at the end of the bed for relax.
Also the back cushion has a double function; it can be used as a pillow like in a real bed or as a back cushion like in a sofa.
This day bed is made of an iron structure cover with eco-friendly rattan, and the cushions are made of upholsery cover with elastic tissue .
Participant Information
CHIARA BERTINI
ENTRY CODE : 3407
EDUCATIONAL INSTITUTE: INDUSTRIAL DESIGN FLORENCE UNIVERSITY