3406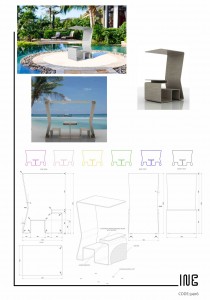 Line is a new way to think of an external object.
Line is an element that serves at the same time to several needs.
It's contemporaneously seat, table and shading device.
It' s main feature is that it can be used as a single element, but if need be these elements are put together to create meeting places with friends, to read, to play cards or lunch.
Line has characteristic of being a pure form, continuous and infinitely repeatable.
Line is a structure made from an aluminum frame dressed again with rattan, durable in climate conditions.
Participant Information
SARA CASATI
ENTRY CODE : 3406
EDUCATIONAL INSTITUTE: UNIVERSITA DEGLI STUDI DI FIRENZE FACOLTA DI ARCHITECTURA