3446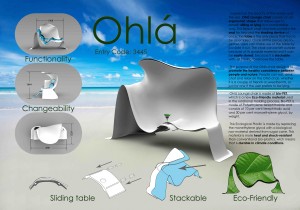 Inspired on the beauty of the waves and the sea, Ohlá Lounge chair consists on an ergonomic shape that allows user to remain sitting or lying in a comfortable way. This Beach chair structure contains the seat for two and the shading device at once; the table is the only piece that has to be assembled. Once all the pieces are together, users can make use of the table by just slide it out. The chair can be left outside because of its durable material and it can be easily stored, because it is stackable without having to remove the table.
The purpose of the Ohlá chair design is to promote the healthy coexistence between people and nature. People can eat, drink, chat and relax on the Ohlá chair, whether it is a couple of friends or sweethearts, or just for one if the user prefers to be lying.
Ohlá Lounge chair is made of bio-PET, which is a new Eco-Friendly material used in the rotational molding process. Bio-PET is made of Polyethylene terephthalate and consists of 70 per cent terephthalic acid and 30 per cent monoethylene glycol, by weight.
This Ecological Plastic is made by replacing the monethylene glycol with a biological raw material derived from sugar cane. This material is more heat and shock-resistant than conventional bio-plastics, wich means that is durable in climate conditions.
Participation Information
Korina Leal González
CODE 3446
EDUCATIONAL ISTITUTE: Universidad de Monterrey