3399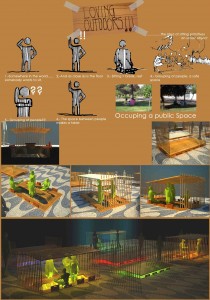 The project born since the idea of sitting as the first inhabitants of the planet or as some cultures actually or as they occupy the public spaces of groups of people, accepting the act of sitting down and they mark a place of reunion.
With a single object is achieved :
a chair
a table
a space
The project has a backrest and height adjustable canopy for when the occupying space is adjusted to convenient heights, through the bar rails. They deal with materials like bamboo for the case of bars, wicker and fabric for the cover, and wood for the table and chair. The construction process is nothing more than folding and cutting a sheet which is easily transportable and can be installed in any space, inside and out.
The project has
-folder sheet
-bamboo bars
-wicker cover
-adjustable backrest.
Participant Information
VICTOR MARTINEZ
ENTRY CODE : 3399