3397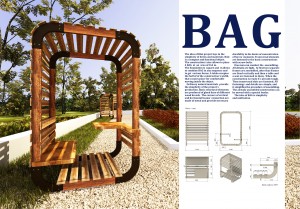 The idea of BAG project lays in the simplicity of forms and materials. BAG is a compact and functional object.  The construction`s size allows to place 4 BAG  at  an  area of 3×3 m. The foundation is  square and  it allows to combine BAG in any sequence and to get  various forms. A table occupies the half of of the construction`s width, that vacates place for comfortable moving inside the object.
Ordinary natural materials  provide the simplicity of the project`s production. Basic structural elements are produced of glued bars of different wood breeds.  The corners of vertical and horizontal beams` connection are made of metal and provide necessary durability in the knots of concentration of forces` moments. Transversal elements are fastened to the basic constructions with screw-bolts.
One man can conduct the  assembling.  All details are light.  At first two separate frames are assembled, after that frames are fixed vertically and then a table and a seat are fastened to them.  When the construction is ready it`s already tough. Then transversal slats are fastened. All fastenings  and details are simple, and it simplifies the procedure of assembling. The already assembled construction can be moved with a special loader.
The idea of BAG is simplicity and unification.
Participant Information
ALEKSANDR GUSAKOV
ENTRY CODE : 3397
EDUCATIONAL INSTITUTE : MARIUPOL TECHNICAL SCHOOL OF BUILDING