3389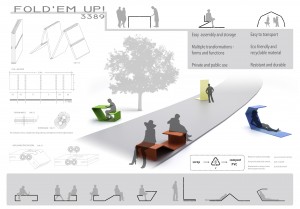 Easy assembly and storage. Multiple transformations forms and functions. Private and public use. Easy to transport. Eco friendly and recyclable material. Resistant and durable
Nowadays everything is in continuous change. Being able to adapt to it is crucial, therefore, changeability is the generating idea of this project.
The piece of furniture consists of six plastic PVC panels attached to one another by structural articulations. This articulations allow 360 degree rotation and can be fixed at any angle.
With this single piece of furniture multiple forms can be achieved allowing a wide range of different functions. This includes combinations of chair, table and parasol or any many other functions that the user can come up with.
The dimensions of the panels come from a module of 1000mm x 1000mm x 40mm . The panels are made of compact PVC which is rigid and at the same time light. In addition, PVC is a durable material resistant to water and humidity as well as recyclable and eco-friendly.
The panels are connected together by structural articulations. These articulations are composed of cylindrical gears joined together by a rigid inox steel rod. This rod has a handle at its end which can fix the position of the gears, holding the panels in a certain position. This articulating system provides flexibility and rigidity at the same time.
Participant Information
ROCIO DE MIGUEL NOGUERA / MARÍA JÁVEGA PALOMO
ENTRY CODE : 3389
EDUCATIONAL INSTITUTE:  ETSAV (UPV)