3375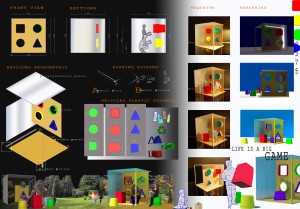 Familiar objects are those that we look for more; very often they are tied to our childhood.
In this case, the child's play and thus its recognition, become the opportunity to give life to the seat-roof structure by combining the physical element to the emotional.
The colorful pieces, cubes, pyramids, cylinders, which all children use to learn to recognize shapes and colors, become objects of everyday life.
The "break" in a park can thus represent a relaxing and funny moment at the same time.
The box concept, closed on four sides, is revised and adapted according to the needs of an open place.
The main elements that constitute it are few and simple:
–        a vertical wall made of plywood, within which the pieces of the seats and of the table fit together;
–        a side wall and a roof (gradient 1%) made of polycarbonate, a semi-transparent material that allows both shading and light to pass through;
–        recycled plastic volumes for sitting and laying down objects.
User manual
The few elements described above, with the addition of a wooden base, are dry assembled with few metal parts as shown in the graphic script A. The vertical wall, which, together with a wooden pillar, supports the light roof, is matched to the base. The wall where the additional pieces fit together is placed beyond the middle of the base leaving enough space to shelter.
Fundamental principles that characterize the project.

–        Formal simplicity: all the elements have recognizable and regular forms that do not differ from those of the playing box. The object does not want to blend in but to complement in the place where it is positioned.
–        Ease of set up, transport, installation and maintenance: the creation of the various pieces does not require special or researched processing. The products used are easily available on the market and commonly consumed. The dismountability of the elements allows an easy transport, a quick assembly on site as well as minimum precautions for maintenance. All materials used are designed for outdoor installation. Furthermore, for that regards polycarbonate, under normal conditions the rain is enough to keep sheets clean.
–        Cost: the common and easily available materials are consequently cheap.
–        Environmental sustainability: the introduction of the concept of recycling first and waste separation after opened new frontiers that have brought benefits from the environmental, economic and application points of view. Hence the idea to use for the seats and the table, 100% recycled plastics that are increasingly used for street furniture and playgrounds in recent years. The main structure was thought in bi-laminate poplar plywood panels; two 0.8 mm laminates cover both sides. They are particularly suitable for use in wet locations or where a high resistance to weigh and bending is required. Alveolar polycarbonate sheets are ideal for all solutions that require at the same time: high thermal insulation – excellent light transmission – favorable weight / strength ratio – maximum safety and durability – stability of the physical / mechanical characteristics over time.
Participant Information
MARGHERITA GUARISCO
ENTRY CODE :  3375
EDUCATIONAL INSTITUTE :  POLITECNICO DI MILANO