3350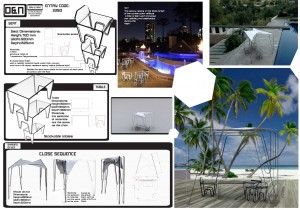 THE MAIN IDEA ABOUT THE DESIGN PROJECTION IT'S A CONSTRUCTION, BASED ONA CERTAIN NUMBERS OF INDIVIDUAL SEATS, A COFFEE TABLE AND A SHADE DEVICE ALL OF THEM WITH THE SAME DESIGN LINE WICH CONSIST IN BASIC GEOMETRIC FORMS LIKE A HALF HEXAGON.
THE MAIN STRUCTURE OF ALL THE PRODUCTS ITS MADE OF TRANSLUCENT POLYCARBONATE (TERMOPLASTIC RECYCLABLE, SIX TIMES MORE RESISTANT THAN GLASS AND TOO MUCH LIGHTER ALSO HAS RESISTANT TO UV)
WHIT A DETAIL ALL AROUND ITS PROFILE WICH CONSIST IN BLACK MATTE TAPE MADE OF EPOXY RESINS.
DURING THE DAY THE COLOR OF THE TAPES REMAINS BLACK BUT WHEN THE SUNLIGHT OR ANOTHER SOURCE OF LIGHT ARE LOW THE TAPE REFRACTS THE LIGHT, FROM LIGHT BULBS OR ANY KIND OF LIGHT SOURCE NEARBY.
THE GLOWING PROFILE CONCEPT MAY BE USED FOR OUTDOORS AND INTERIORS LIKE LOUNGE BARS, CLUBS, TERRACES AND POOL SIDE FURNITURE, BUT ITS PRINCIPAL FEATURE IT'S THE APPEAREANCE AT NIGHT.
ANOTHER DETAIL IN ITS STRUCTURE IT'S THE ANTI-SKID TAPE AT THE BASE OF EACH STRUCTURE FOOT WICH HELPS REDUCE THE DAMAGE TAKEN BY THE USE AND AVOID ACCIDENTS.
THE CONSTRUCTION PROCEDURE CONSIST IN IMD(IN MOULD DECORATION)
ADVANTAGES: ONE OF THE MOST EFFICIENTT AND COST-EFFECTIVE PROCEDURES, REDUCES SECONDARY OPERATIONS AND LABOR, PRODUCTION THAT MOLDS AND DECORATES IN ONE OPERATION, NO ADHESIVE, REDUCES INVENTORY, LOWER SYSTEM COST, HAS A LONG LASTING GRAPHICS.
AFTER THE INYECTION THE REMAINING PLASTIC PATHS ARE CUT, THEN THE ANTI-SKID STRIPS ARE INSTALLED.
THIS PROCESS IS FOR THE TABLE, SEATS AND THE SHADE DEVICE (STRUCTURE)
THE SHADE FABRIC ITS MADE OF SYNTHETIC FIBERS IN A WHITE MATTE COLOR, THE INSTALLATION OF THIS MATERIAL CONSISTS IN FOUR ATTACHMENTS, ONE IN EACH UPPER CORNER OF THE SHADE STRUCTURE.
Participant Information
Rogelio
Torres González
ENTRY CODE : 3350
EDUCATIONAL INSTITUTE: UNIVERSIDAD DE MONTYERREY (UDEM)