3336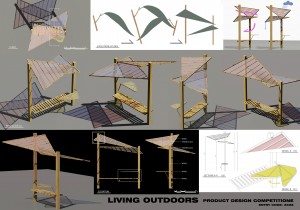 This idea of design comes from two cross-leaves. sunny day people can take a rest avoiding the sun by "leaves", rainy days, "leaves" a place for people to provide shelter from the rain.
The columns use the logs,  use of stained glass ceiling, the table can be rotated, and the chair is designed max for 2 people.
The structure of the wood, assembly simple. After the Expo these can be easily dismantled and erected at other locations serving.
Participant Information
QINGQIN SHEN
ENTRY CODE : 3336
EDUCATIONAL INSTITUTE : UNIVERSITY OF ROME "LA SAPIENZA"