3296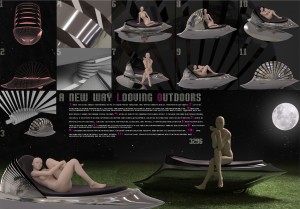 Past as a lesson, present as a challenge, future as an opportunity: this is the strong and clear message of the concept. To enclose into a single portable object the sense of convenience of a chair, solidity of a table and relaxation of a shadow created by a shading device is the main idea also. The shell is reinforced through an advanced device – inspiring to the near future when building standards are defined in terms of what is to be built. As a result, this new collection is distinguished by being born of a natural fusion of feelings and needs that the designer has developed every time he sat on a deckchair or a chair on the beach or in a pool. And all is joint by anatomical shapes resembling creatures like the snail, the dolphin and sea urchin.
The seat represented by the rendering of the file 3926.jpg shows the selection of the materials aimed to highlight the shape. It is assumed a possible realization through recycling plastic materials such as Plasmix, already used for the production of important motorbikes' elements – like for Vespa GTS – i.e. dais and trunk. This is to highlight the properties of durability and weather resistance.
Available in several coulours tones and with different mat or glossy varnishing variations, it takes shape from a mould into which the fused material is fired at very high speed. The 2 halves are then smoothed and finished until reaching the wished shape. Later, it is combined with the components such as table, wheel, radial table and a ballast for the internal balance of the structure.
The design of the seat is created by a soft mattress inspired to the air mattresses but covered with absorbent fabric. Available in various shades of colour, or with the logos printed or embroidered on the surface of a beach towel. The design of the table is created to be a servant of different functions and be more or less capacious depending on the necessities. The design of the shading device is designed to guarantee the constant presence of light, however softening it through reflective laminas.
It is available a second fabric that runs under the laminas, that is so dense to stop the rain and the strong wind, though allowing the light to come in. The materials can be plastic, aluminium slats (of course not sharp). The wheel has been added to allow easy transportation. I am firmly sure that everyone would like to try at least one to relax.
Participant Information
ALESSANDRO BELLARO
ENTRY CODE : 3296
EDUCATIONAL INSTITUTE : IDP _ ISTITUTO DESIGN PALLADIO