3466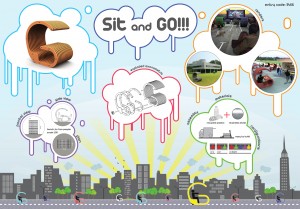 Sit and Go is a moving device for resting moments.
In our times, when hustle and fast movement flows characterize our everyday life, while cities are often jungles of dehumanizing hostility, Sit and Go means the exception, through building mobile resting places where the choice for the configuration of space is up to the user. Sit and Go colonizes the non-places and playfully transforms them into accessible public spaces, due to the innumerable configurations that it is possible to create with it. This way, Sit and Go triggers powerful, little processes of social transformation with the involvement of users in creating their own vision of the city by changing its shape and perception. This generates in the users a new sense of belonging, while Sit and Go becomes an integral part of the surrounding environment.
Resting on Sit and Go means simultaneously staying on the site and travelling with your mind, reading a newspaper or a book, talking with a friend or simply taking a moment of relax and contemplation under a light shadow in a summer afternoon. But Sit and Go is not only resting: due to its unique shape, it can also be used to have outdoor meals in both elegant or easy locations, or it can even take place of the car in a drive in!
Sit and go is also the perfect solution for private spaces thanks to its lightness, ease of movement and its organic design, available in an infinite number of color shades, which makes it suitable for any atmosphere and situation.
Sit and Go is projected according to the most important ergonomic standards, because it is designed around and specifically for the human body: shrouding and soft lines and rounded profiles are combined with precise dimensional studies to generate the highest possible comfort for all kind of users.
Sit and Go has many practical advantages. Its inner structure is only made up of stainless round-section steel bars, while its outer composition is made up of recycled poured plastic profiles that come from a single mold. Assembling Sit and Go: nothing easier. It's just to insert the bars in the profiles, and you're done!
Also, Sit and Go doesn't need any maintenance, because the materials of which it consists are waterproof, resistant to degradation under any weather condition, making it particularly suitable for use in urban areas.
Sit and Go is environmentally friendly and economical as well, because it consists of recycled materials.
Participation Information
Marco Mantellato
CODE: 3466
EDUCATIONAL INSTITUTE: The G. d'Annunzio University of Pescara, faculty of Architecture